Publications
We want to achieve an overview of caving areas and to provide a proper documention of caves and karst areas to the Myanmar authorities. This guarantees a basis for further research and development. All results are published in books or articles and are presented at international conferences.
Books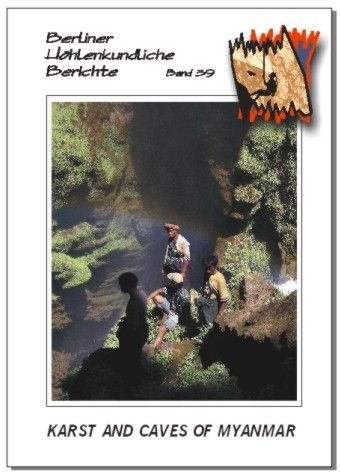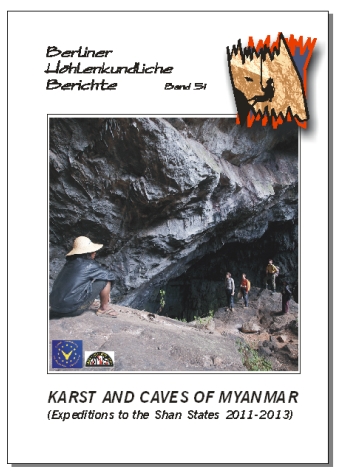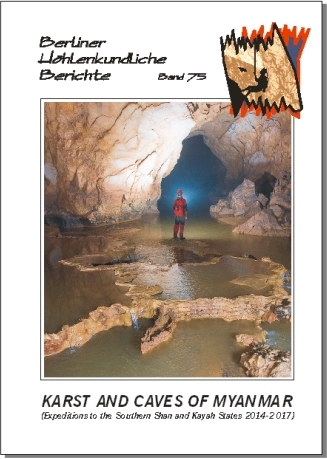 The cave maps with detailed descriptions and photographs of our expeditions 2009 - 2017 are published in English at the well known expedition series "Berliner Hoehlenkundliche Berichte".
Please order for worldwide shipment the "Karst and Caves of Myanmar" Part I Vol. 39, Part II Vol. 51 and Part III Vol. 75 at www.speleo-berlin.de, speleobooks.com or www.speleoprojects.com.
Articles for download
2nd Asian Transkarst Conference in Lichuan 2015

"Karst and Caves of the Shan plateau in Myanmar"

0.3 MB

Swiss Caving Magazine Stalactite July 2015

"Kayah - River Caves in the land of the red Karen" (German/French only).

3 MB

Int. Congress of Speleology 2013 in Brno

"Speleological epxeditions to the Shan Plateau in Myanmar (Burma)". A good overview of areas and exploration results until 2013.

1 MB

Descent 2012

Short report in the British caving magazine Descent

3 MB

Bagan Air Magazine

Vol. 5

This article started the expeditions to the Htam Sam Cave in Hopon in 2010.

1 MB
Lectures (Slide shows)
| | | | |
| --- | --- | --- | --- |
| Int. Congress of Speleology 2013 | Speloplogical expeditions to the Shan Plateau in Myanmar (Burma) | 5 MB | |
| Austrian-German Congress 2012 in Bad Mitterndorf (Austria) | Ten years of biospeleological research in Laos, Myanmar and Vietnam (in German) | 5 MB | |